Welcome to the best open air club in Ibiza!
Book your Ushuaia Ibiza tables now at the lowest market price.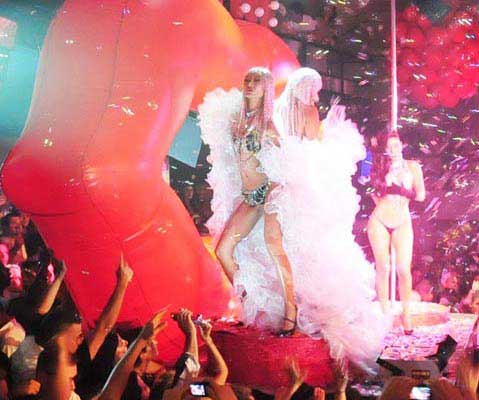 Ushuaia Ibiza tables
Ushuaia Ibiza is the best open air club in the White Island. It is one of those places that will definitely fascinate and impress you. Its mixture of glamour, madness, and originality in the same party and place will make you want to come back over and over again. So if you are around this summer, you don't want to miss all that Ushuaia Ibiza has to offer.
Ushuaia Ibiza - The Club - opens in May and offers the best DJ line up all summer long until the month of October. Dimitri Vegas, Nervo, Kygo, Martin Garrix, Calvin Harris, and David Guetta are only a few of the top international DJ's that land on Ushuaia's big stage.
Besides being a club that outstands for its many unique characteristics, Ushuaia Ibiza has one of the most comfortable and chic VIP areas of all. You get to choose from a variety of tables that are located close to the stage or beside the pools. You can also find good Ushuaia Ibiza tables at The Cloud area, a balcony from where you will have an amazing overall view of The Club, the Tower, and every detail of Ushuaia's parties.
The best Ushuaia Ibiza tables are located in the Main VIP 1, right in front of the main stage. Your second best option are the VIP tables located in the Main VIP 2 and Palm Area, next to the pools. Last but not least, are the Ushuaia private tables situated in The Cloud area. From here you will have a perfect view of the party. However, you won't have direct access to the main dance floor since this area is sort of a balcony that overlooks to The Club and party.
For more details about VIP tables, Ushuaia Ibiza table price, bookings, or general information about parties at Ushuaia, do not hesitate to contact us.
Vip Table's packs

We provide VIP services and packages so you can experience the special night out that you wish!

Easy booking

We provide VIP area maps so you can choose your seating and the minimum spend. Everything is a click away!

Happy to help!

Through email, call or WhatsApp, we are always at your service. Do not hesitate to contact our 24/7 concierge service.

Luxury Services

Cars, boats, villas, private jets, etc... All you have to do is ask. We make sure that your Vip Experience is fulfilled!
Do you want to know more about Vip Tables at Ibiza?