Welcome to Privilege
where the party never stops!
One of the biggest and loudest clubs in the world. The perfect place for 24 hour party people. Enjoy!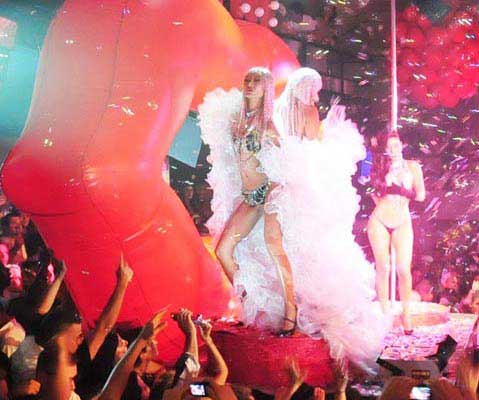 Private table in Privilege Ibiza
Did you know that Privilege Ibiza is the biggest club worldwide? Yes! Of course, this phenomenon had to take place in the White Island. However, Privilege Ibiza is not only famous for its grandiosity but also for the amazing live performances it actually offers, the huge swimming pool it used to have at its center, and the sex shows it previously included in their Manumission party sessions.
Today, Privilege Ibiza can still be defined as one of Ibiza's nightlife highlights. With Supermartxé, being the club's premier and top 1 party session, it keeps attracting the best crowd and Electronic Dance Music party lovers from all over the world. And thanks to its continuous success, it also is one of Ibiza's main stage for the best international DJ's. Danny Avila, Joshua, and Faithless are just a few among the many artists that have visited Privilege's Main Room or Vista Club.
Both rooms, Main Room and Vista Club, offer excellent options of Privilege private tables that will give you VIP access to specific areas of the club. Here are the different Privilege private table choices that you will have:
Platinum (VIP 1): The Platinum Privilege private table is definitely your best choice! Located in front line, it guarantees you a perfect view of the main dance floor and stage.
White (VIP 2): The Privilege private tables located in the White area are available for group bookings up to 25 people. This area is a stage balcony from where you will have a nice overall view of the party and stage.
Gold (VIP 3): Booking a Privilege private table located in the Gold area is also a good option. These tables are right in front of the stage and DJ cabin.
Silver (VIP 4) and Black (VIP 5): Tables in the Silver and Black VIP areas are right behind the top Privilege private tables. However, the view is also worth it!
Contact us today for more information about Private table in Privilege Ibiza and VIP table bookings. You can send us an e-mail at vip@ibizatables.com or Whatsapp +34 691 273 993.
Vip Table's packs

We provide VIP services and packages so you can experience the special night out that you wish!

Easy booking

We provide VIP area maps so you can choose your seating and the minimum spend. Everything is a click away!

Happy to help!

Through email, call or WhatsApp, we are always at your service. Do not hesitate to contact our 24/7 concierge service.

Luxury Services

Cars, boats, villas, private jets, etc... All you have to do is ask. We make sure that your Vip Experience is fulfilled!
Do you want to know more about Vip Tables at Ibiza?