Welcome to privilege
where the party never stops!
One of the biggest and loudest clubs in the world. The perfect place for 24 hour party people. Enjoy!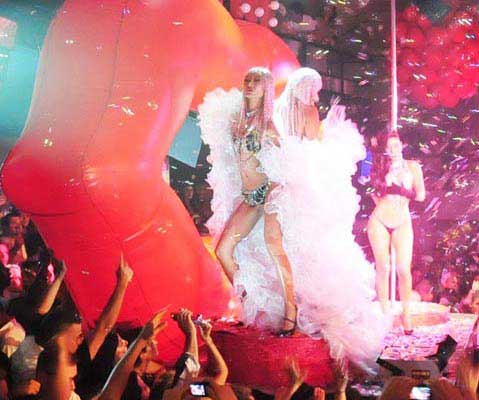 Privilege Ibiza private balcony
you have chosen to party tonight at Privilege Ibiza, you have made the right choice! Indeed, it is a nightclub that will impress you. According to the Guinness Book of Records, this superclub is the largest in the world. It occupies a total space of 69.968 sq. ft. (6.500 m2) and it can welcome up to 10.000 people on one same night.
This superclub opened in 1978 and was known as Ku. It was renovated in 1995 and changed its name to Privilege Ibiza. In 1997, it expanded and grew into what it is today: a superclub with two rooms, more than 8 VIP lounges, a huge dance floor, and a spectacular stage that has been the host of thousands of international DJ's.
Summer is the highest season and a very demanded one. For this reason, we highly recommend you to book VIP tables in the area and room of your preference. Booking tables in a Privilege private balcony is also an option we recommend.
The Main Room has 8 VIP areas:
Platinum (5 tables)
Gold (6 tables)
Silver (5 tables)
Black (6 tables)
White Privilege private balcony (3 tables)
Backstage (4 tables)
High tables (4 tables)
The Privilege private balcony has 3 tables located in a balcony that overlooks the main dance floor and stage. The table cost for tables in the White Privilege private balcony range between 5.000€ to 15.000€ for a total of 15 people maximum. You can find more details and information about prices and table options here: Privilege Ibiza table cost.
You can also book tables in the Vista Club. All the VIP tables are located backstage right behind the DJ booth. Prices start at 700€.
Contact us today for more information about Privilege Ibiza private balcony and VIP table bookings. You can send us an e-mail at vip@ibizatables.com or Whatsapp +34 663 31 66 11.
Vip Table's packs

We provide VIP services and packages so you can experience the special night out that you wish!

Easy booking

We provide VIP area maps so you can choose your seating and the minimum spend. Everything is a click away!

Happy to help!

Through email, call or WhatsApp, we are always at your service. Do not hesitate to contact our 24/7 concierge service.

Luxury Services

Cars, boats, villas, private jets, etc... All you have to do is ask. We make sure that your Vip Experience is fulfilled!
Do you want to know more about Vip Tables at Ibiza?