Welcome to Hï Ibiza
where the party never stops!
One of the biggest and loudest clubs in the world. The perfect
place for 24 hour party people. Enjoy!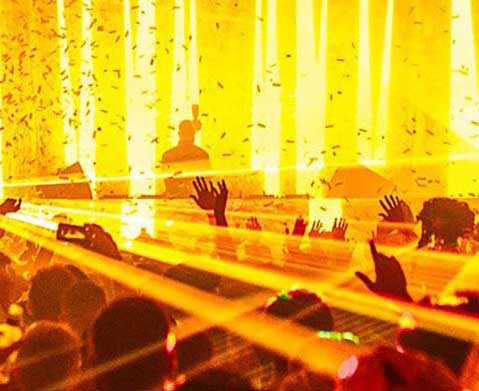 Hi Ibiza private balcony
If you are looking for new places to visit in Ibiza, Hi should definitely be on your list! Hi Ibiza is the most recent acquisition of the island's nightlife industry. Owned and managed by Ushuaia Entertainment in May 2017, it is the new favorite meeting point of electronic music lovers and of those who enjoy a place where music, art, and entertainment meet at its highest expression.
Hi Ibiza starts its clubbing season by the end of May. It remains open until October with an amazing lineup proposal. Top star DJ's like Armin Van Buuren, Black Coffee, Roger Sánchez, and Damian Lazarus are only a few of the many artists that visit Hi Ibiza throughout the entire season. It has a total capacity of 2.500 people that will be able to choose among three different areas to spend their night out: The Theatre (Room 1), The Club (Room 2), or the open air terrace, an inviting place where you can relax and chill for a while before heading back to the party.
Planning a night out? We suggest you to include Hi Ibiza among your top options! Hi Ibiza is the new nightlife highlight in the White Island. It opened in May 2017 and, since then, it has been showcasing the best of the Electronic Dance Music industry with star DJ's like Armin Van Buuren, Roger Sánchez, Nic Fanciulli, and many more.
The Hi Ibiza season starts in May of every year. It remains open until October with an amazing lineup of the best EDM DJ's. Find more information about Hi parties and events here: Hi timetables.
To avoid long queues, we highly recommend you to book a Hi Ibiza table in a private balcony or VIP area. In both cases, you will have a comfortable table in an exclusive area with perfect views to the main dance floor and stage. Each VIP table booking includes:
A private table in the VIP zone of your preference
A bottle and soft drinks or juices to mix up your drinks
VIP access to the club
You can choose among 7 different VIP areas or private balconies that are located in Rooms 1 and 2. The best tables are situated in Zones A and B in Room 1. If you would rather spend your night in Room 2, we suggest you to book a Hi private table in Zone C.
For more details about VIP tables or which private balcony is the best, do not hesitate to contact us now by mail or WhatsApp. Our e-mail address is vip@ibizatables.com. Our number is +34 691 273 993.
Vip Table's packs

We provide VIP services and packages so you can experience the special night out that you wish!

Easy booking

We provide VIP area maps so you can choose your seating and the minimum spend. Everything is a click away!

Happy to help!

Through email, call or WhatsApp, we are always at your service. Do not hesitate to contact our 24/7 concierge service.

Luxury Services

Cars, boats, villas, private jets, etc... All you have to do is ask. We make sure that your Vip Experience is fulfilled!
Do you want to know more about Vip Tables at Ibiza?